What is the Industry Traceback Group?
USTelecom leads the Industry Traceback Group (ITG), a collaborative effort of companies across the wireline, wireless, VoIP and cable industries that actively trace and identify the source of illegal robocalls. The ITG coordinates with federal and state law enforcement agencies to identify non-cooperative providers so they can take enforcement action, as appropriate. The ITG operates under the Communications Act (Section 222(d) (2)) which permit telecommunications carriers to disclose and/or permit access to Customer Proprietary Network Information (CPNI) if suspected fraud, abuse or unlawful use of services exist.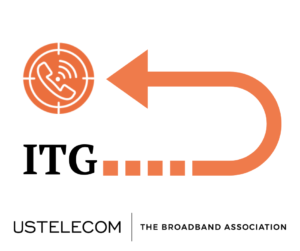 The mission of the ITG is to facilitate a neutral coordination platform for voice service providers to trace and identify the source of illegal robocalls to protect voice networks and consumers from fraudulent, abusive and/or unlawful robocalls.
Learn more about the Origins of the ITG
How does traceback work?
Traceback is a cooperative effort by telecommunications providers that starts with a terminating service provider possessing evidence of suspicious traffic. Using a secured portal managed by USTelecom, the call is traced systematically back through various networks until it reaches non-responsive providers or the originator of the suspicious call is identified.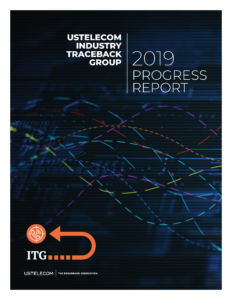 The first annual ITG progress report highlights the group's activity in 2019. Over the previous year, ITG members have conducted over 1,000 tracebacks, implicating more than 10 million illegal robocalls.
100+ companies have participated in ITG traceback investigations, resulting in more than 20 subpoenas and/or civil investigative demands from federal and state enforcement agencies.
Download the USTelecom ITG 2019 Progress Report
How can I become a member of the Industry Traceback Group?
If you are interested in becoming a member of the ITG, click here. For information on how to respond to tracebacks, become a cooperative voice service provider in the fight against illegal robocalls, and follow industry best practices, download 'ITG's Policies and Procedures.'