June 5, 2017
This year marks an important milestone in USTelecom history as we note the 120th anniversary of the association's founding by a group of entrepreneurs who connected Americans across the country using little but thin wires. Our association has continued to evolve with changing times, convening telecom companies of all sizes and distinguishing itself as a recognized leader in policy discussions which could fundamentally alter the evolving telecommunications sector.
The industry may have changed dramatically in the last 120 years, but the association's mission of promoting a pro-growth agenda and allowing telecom companies to focus on what they do best – connecting Americans coast-to-coast, across the hills, valleys and fields of our great country— has changed very little.
The Early Years
Very few homes had telephones in late 1890's. Alexander Graham Bell patented the telephone in 1876, but the technology wasn't widely adopted at first. Most people still used Western Union to send telegraph messages. That began to change in 1894 when several of Bell's key telephone-related patents expired. Suddenly, competitive barriers began to fall and scores of enthusiastic innovators, wholly independent of the Bell group, began entering the nascent telephone business.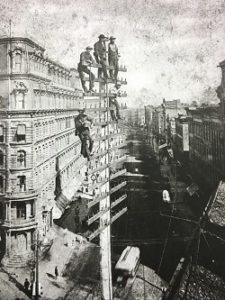 Telecom workers construct telephone towers in downtown area.
By the end of 1894, historians say roughly 80 new competitors had obtained about 5 percent of the phone market, mostly in areas where the Bell system wasn't available. By the early 1900s, the number of competitors had grown to more than 3,000 and they began competing head-to-head in some markets. They touted $20 million to $30 million investments in exchanges in Ohio, Iowa, Illinois, Michigan, New York, Pennsylvania, and Indiana.
In the spring of 1897, Western Telephone Construction Company chief James E. Keelyn and journalist Harry B. MacMeal (of The Telephone, an independent trade publication) put out a call to independent phone companies to join together in a new association. Representatives of independent phone companies from across the country responded to the nationwide call and gathered in Chicago on May 27, 1897. They wanted the group to allow companies to work together on efforts to connect rural America, sound alarms on harmful policies, and advocate on behalf of the interests of the burgeoning independent phone industry.
The Chicago meeting galvanized hundreds of local independent operators. Within weeks, the First National Convention was held in Detroit in June 1897. During the two-day meeting, the "National Independent Telephone Association" was born.
Connecting Rural America Since 1897
Many of our small and medium-sized members began as family-owned enterprises and remain independent today. In the early years, systems were built as a unit and outside connections required negotiated "intercommunication" agreements with other companies.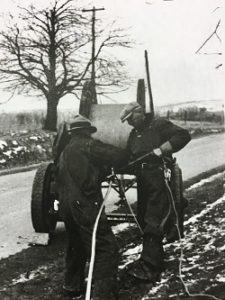 Telecom workers laying cable.
Even at that first Chicago meeting in 1897, toll charges were a concern raised by members. As the years passed, other regulatory issues cropped up, including tax legislation, accounting and reporting requirements, universal service obligations, mergers, pricing, patents and public safety concerns. Party lines were common in U.S. households for decades, which raised both privacy and eavesdropping concerns, until they were phased out in favor of private lines.
Throughout all of these industry shifts, the association has remained at the forefront of shaping communications policy at home and abroad.
Transforming America's Infrastructure
Today, broadband is the engine that powers the global economy. It is expanding the how society connects more than newspapers, telegraphs, telephones, radios, and TVs combined. Ensuring an industry with a long-standing history of developing newer, better, faster ways of connecting customers has a sustainable path to deploying new technologies is key for future innovation and growth.
While the industry has changed dramatically over the year, USTelecom's dedication to our member companies and our industry has never wavered. We still believe the embrace of light-touch regulatory policies will spur dynamic innovation and the investments needed to unleash ever-greater opportunities for our companies and consumers.
As we celebrate our 120th Anniversary, this is a great time to celebrate all that our members have accomplished in connecting communities across the nation. It is also an opportune time to look to the future, recognize all that is possible and embrace with humility the notion that, while none of us can predict the future, the nation's broadband companies will chart a bright path forward.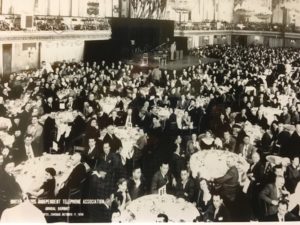 When USTelecom was the U.S. Independent Telephone Association at its annual banquet in Chicago, October 11, 1954.