September 22, 2021
USTelecom is out with its annual analysis of broadband industry capital expenditures (capex). This year's survey of 2020 capex provides an instructive look at not only the immense investment (in dollars) America's communications providers are devoting to deploy broadband, but to another point: investment has not flagged – in spite of the tremendous disruptions caused by the pandemic.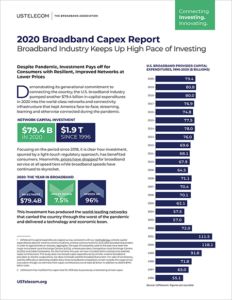 First, the investment: in 2020, America's communications providers' capex was $79.4 billion, bringing the cumulative total to $1.9 trillion in communications capex since the Telecommunications Act was passed in 1996.
Second, the pandemic: in 2020, Americans relied on their broadband networks as never before due to COVID-19 shutdowns. Despite the pandemic beginning in the first quarter of 2020, impacting the lives of communications workers and their customers, disrupting global supply chains and government approval processes required for broadband deployment, the industry's investment remained very strong.
In fact, the FCC's own reports show fiber broadband deployment increased by approximately five million homes passed during the first six months of 2020 alone, to say nothing of the increases in fixed wireless and 5G coverage.
To put that in perspective:
The Infrastructure Investment and Jobs Act (IIJA) that recently cleared the Senate, a generational investment in all of American infrastructure from roads to water and sewer systems, is set to provide $1.2 trillion in funding over the coming years. This huge figure is $700 billion less than what the communications industry itself has invested to deploy today's advanced digital networks over the past 25 years.
Even the IIJA's historic proposed investment earmarked to broadband deployment, which totals $42.45 billion, is only about half of what America's communications providers invest annually in private capital on U.S. communications networks.
This is not to minimize the IIJA's proposed investment in broadband. It is both necessary and historic. The pandemic has shown the country needs this funding to finally bridge the connectivity gap and provide 21st century broadband to America's hardest to reach places.
We're closer than ever to our shared goal of universal connectivity – made possible by government smartly leveraging the infrastructure and innovation supported by this private capital.
Putting 25 years of investment figures in context shows that America's communications providers have a tremendous amount of "skin in the game" when it comes to broadband network deployment, and it is important that additional regulations (beyond those ensuring taxpayer funding is spent as intended) not be structured so as to dissuade or slow private investment.
Plus, for the first time this year, USTelecom notes that it has generally been undercounting the industry's total capex. How? We have not included smaller rural providers or satellite broadband participants, which are investing approximately $2 billion to compete in America's broadband marketplace. We continue to exclude these participants because the data is difficult to determine with precision, but the $79.4 billion USTelecom reports today is a conservative estimate of capex investment.
The broadband industry's capex investment is particularly impressive in the face of the fact that capex investment in other sectors plunged during the pandemic.
Private investment works for consumers. Today's competitive communications market, spurred since 2017 with a light-touch regulatory approach, continues to drive investment to the benefit of America's economic engine.
Mike Saperstein is VP, Strategic Initiatives & Partnerships at USTelecom – The Broadband Association.