February 23, 2017
Data thefts are the stuff of lurid headlines and baleful identity protection ads. While they may not be as pervasive as death and taxes, data thefts have impacted the lives of nearly two-thirds of Americans, according to a new analysis by Pew Research. From fraudulent charges on a credit card to a hijacked online social media account, 64 percent of Americans have been hit with some form of data theft, the study said.
Data thefts and other cybersecurity threats are becoming more sophisticated, heightening the need for industry and government to work together to share information and create workable risk management practices. USTelecom is a leader in organizing cross-industry and government collaboration around cyber breaches to prevent against the data thefts discussed in the Pew study.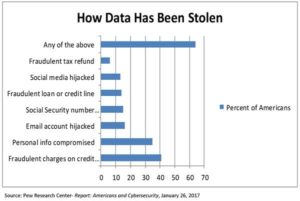 Not all Americans are equally vulnerable; data thieves go where the money is. A greater share of Americans (72 percent) in their early 30s through mid-60s, have experienced at least one data breach. So have 78 percent of college graduates and 77 percent of those with household incomes of $75,000 or more per year.
Only half of adults aged 65+, who are popularly thought to be less sophisticated about technological things, say that their personal data has been breached in some form.
Given the sensational news stories that follow massive data breaches such as those that hammered Yahoo (1 billion accounts), Target (70 million customers) and Home Depot (56 million), it is no surprise that roughly half (49 percent) of all Americans feel their personal information is less secure than it was five years ago. By age, 58 percent of Americans 50 years and older believe their data is less secure.
How have Americans responded to their data worries? More than two-thirds (69 percent) of online adults reported that they chose not to open an online account because they were worried about how their personal information would be handled.
Users who have been hacked worry more when signing up for digital platforms. Fully, 73 percent say they have avoided opening an online account compared with 61 percent of those who have not experienced any type of data theft.
This analysis is based on a Pew Research Center survey taken between March 30 to May 3, 2016, using a national sample of 1,040 adults, 18 years of age or older.