August 29, 2017
While broadband is widely deployed across the United States, availability continues to lag in rural areas compared to urban and suburban areas, according to the most current Federal Communications Commission (FCC) broadband deployment data. As of mid-2016, 86 percent of rural households had access to wired broadband at any speed compared to 99 percent of Americans in urban and surburan areas.
Yet a recent USTelecom / CensusNBM analysis found that rural broadband availability is not uniform. There is variation across rural areas in terms of deployment, speeds, and competition. While there are gaps in rural broadband, there is no single "rural broadband gap." Rather, availability lags in targeted rural areas either where broadband is not yet available due to challenging geography or network costs or the economics do not support frequent upgrades of existing networks.
Chart 1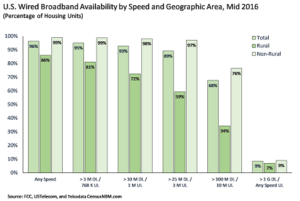 U.S. broadband providers have invested more than $1.5 trillion on our nation's networks over the last two decades but deploying service across the diverse and expansive geography of the U.S. presents challenges. Costs are high in many rural areas because they are sparsely populated and households are far apart. Mountainous terrains can also be a hurdle. That makes the economics of providing broadband difficult and – in some cases — prohibitive. As a result, broadband is more widely available in urban and suburban areas than in rural areas. At higher speeds, the difference between non-rural and rural availability increases. (See Chart 1.)
A deeper look at competitive broadband availability by non-rural and rural areas nationally shows there is not a uniform broadband gap across rural America. (Approximately 21 percent of U.S. housing units are rural according to the 2010 Census). At mid-2016, wired broadband at any speed was available to 84 percent of Americans from two or more providers, with 12 percent having one option and 4 percent having no wired broadband option. For households in that 84 percent category — with two or more wired broadband options — about 74 percent were in non-rural areas and 10 percent in rural areas. For the 12 percent of households with a single wired option, 4 percent were in non-rural areas and 8 were percent in rural areas. Of the 4 percent of households that did not have a wired broadband provider, 1 percent live in non-rural areas and 3 percent live in rural areas.  (See Chart 2.)
Chart 2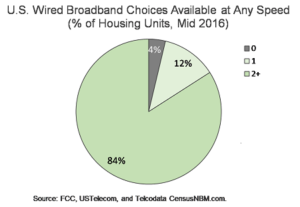 The data shows that while there are still some gaps in wired broadband coverage in rural America, the availability and speed of service in those areas has improved in recent years.
Almost half of rural areas, where 10 percent of Americans reside, had two or more wired networks available by mid-2016, the data shows. More than 37 percent of rural areas, where 8 percent of Americans reside, had one wired provider. Combined with those areas that had two or more providers, almost 86 percent of rural Americans had at least one provider available to them. Of these, 72 percent could get services at 10 mbps download and 1 mbps upload and 59 percent could get service at 25 mbps download and 3 mbps upload. (See Chart 1.)
Given geographical challenges in some rural areas, other technologies — such as fixed wireless, 4G mobile, and satellite — may addresses some portion of these broadband gaps. At the end of 2015, for example, 99.8 percent of Americans had a mobile broadband service available to them at any speed. For additional discussion of these technologies, see USTelecom's August 25, 2017 research brief. Mobile wireless broadband and satellite are available to the vast majority of non-rural and rural Americans.
Every American should have the opportunity to connect to the Internet through robust broadband service and USTelecom members are continuing to deploy and upgrade their networks. As noted in a related blog, speeds and availability are growing, and this is the case in both rural and non-rural areas. Changes to the FCC's Connect America Fund to provide support to providers to deploy broadband networks in unserved rural areas have helped. Further progress in closing the digital divide will require policies that target funding to specific unserved areas where the economics do not support deployment or upgrades, and policies that promote increased investment in networks.