March 26, 2020
Designed for Demand
USTelecom members are committed to continuing to meet the broadband capacity needs of our families, communities and enterprises they serve, no matter where, no matter what. As part of this effort we are closely monitoring network traffic growth on broadband networks during the COVID crisis as the internet has emerged as the central means of keeping Americans connected.
The data continues to show that while network traffic remains at elevated levels when measured against the pre-crisis baseline, overall network traffic has decreased since mid-April. This week traffic's traffic ranged from 10% to 15.3% over the pre-COVID baseline, with a mean traffic increase of 12.9% over pre-COVID baseline. As the chart below shows, the average traffic increase over baseline remains consistently lower now after reaching a high of 27% on April 16.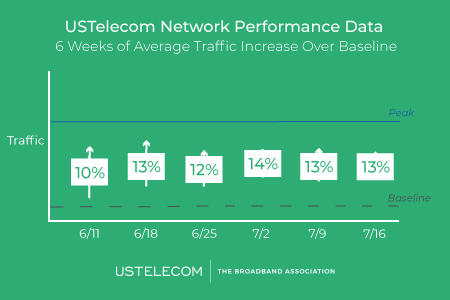 USTelecom members report that even with the traffic increases described above, their core network capacity remains fully capable of accommodating it. Even during peak traffic periods over the past week, interconnections between networks have remained uncongested, as on average 63% to 72% of the total capacity on these peering links continues to be available as a buffer.
Evidence continues to show the user experience has held steady during the crisis, despite the surge in user demand. Recently Anna-Maria Kovacs, Ph.D., MBA, a Visiting Senior Policy Scholar at the Georgetown Center for Business and Public Policy, concluded that U.S. Broadband Networks Rise to the Challenge of Surging Traffic during the Pandemic.
The study found that, "the U.S. broadband networks have performed very well, particularly when compared to those of the European Union (EU) and the OECD. Three factors that may account for that are the high level of investment in telecommunications by U.S. carriers, the prevalence of high-speed fixed-broadband networks in the U.S., and a light-touch regulatory environment."
USTelecom agrees that the nation's broadband providers have invested, before and during this crisis, to ensure that the networks are designed to perform under stresses such as offered by the COVID crisis—investments that are paying off and keeping Americans connected.
About the Data:
The report is based upon the traffic of USTelecom's largest members.
USTelecom members continuously monitor bandwidth usage with tools that analyze and correlate network statistics, which reveal network trends, and provide performance and capacity reports used to manage their networks.
The data reported for the network traffic was measured on the same day of the week (Monday) to allow for proper comparisons between sample weeks and the baseline. The baseline was measured from average Monday traffic before the crisis.
---
For more information on network performance data, please visit the What Our Members Are Doing section of our Coronavirus Action Center.