Digital Leadership in a Connected World
Broadband touches every part of our lives and every issue central to the future of our country.
From jobs and economic growth to health care, education and national security, every great idea candidates have for the future of this nation—for our communities, families, health and wealth—is connected to the power of broadband.
As voters look to 2020, our nation needs leaders who have a plan to ensure the opportunities of broadband reach everyone and lift our nation's economy, competitiveness and security in a connected world.
Are You a Connected Candidate?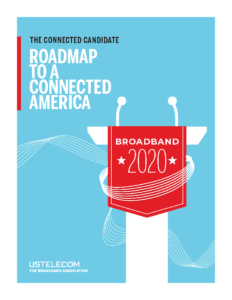 Roadmap to a Connected America
A more perfect union is one in which everyone and everything is connected to the power and potential of broadband. To get there, connected candidates should commit to timely action that ensures all Americans have access to fast, reliable and continually advancing broadband service—and the array of opportunities and innovation this modern infrastructure will continue to bring into our lives.
In 2020 and beyond, candidates will be judged on their commitment to:
★ Connect All Americans
★ Connect All Infrastructure
★ Power Digital Job Growth & Economic Opportunity
★ Train the Workforce of (Today and) Tomorrow
★ Deliver Online Privacy for All…and Everywhere
★ Legislate Modern Net Neutrality Rules
★ Wire Our Wireless Future
★ Defend the Nation from Cyber Threats
★ Hang Up on Illegal Robocalls for Good