April 28, 2021
I'm looking forward to President Biden's address tonight marking the end of his first 100 days, especially any discussion about his plan to permanently close the digital divide and achieve universal connectivity.
USTelecom members unequivocally share the goal to connect every home, school, hospital and business in America. Broadband can and must play an essential role in any plan to lift Americans up and move our nation forward.
That's as true as ever.
During the last 14 months when the country needed them most, America's broadband networks have delivered because of nearly $1.8 trillion in investments – almost $80 billion in each of the last few years.
The reality of today's highly competitive broadband marketplace highlights the constructive and achievable policy solutions to strengthen and expand American connectivity.
Costs Falling, Speeds Rising
We studied residential fixed broadband trends a few months ago and found substantial reductions in price for both the most popular and highest-speed broadband internet services and significant improvements in overall broadband speeds.
The Broadband Pricing Index (BPI) revealed:
The most popular tier of broadband service in 2015 is now priced about 20 percent lower and offers nearly 16 percent faster speeds in 2020.
These price reductions run counter to inflation, which increased consumer costs for overall goods and services by 9.3 percent over the same five-year period.
When inflation is considered, the real price of the most popular tier of broadband service has actually dropped – 28 percent since 2015.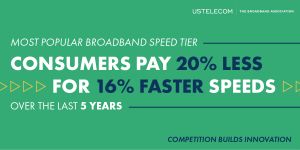 Ultra-competitive broadband market
Also worth noting: today's broadband marketplace is ultra-competitive, defined by increasing speeds and lots of capacity for streaming, zooming and gaming, new providers like SpaceX and Amazon, and next generation technologies like mobile and home 5G services coming online every day.
How competitive is it?
FCC data shows the percentage of Americans with access to two or more broadband service providers increased four times between 2015 and 2019.
In the same period, 16 times as many households had access to three or more providers.
U.S. consumers enjoy twice the facilities-based competition as their EU counterparts.
92 percent of Americans have access to 100 Mbps speeds – up from only 10 percent a decade ago.
87 percent of Americans have access to Gigabit speeds today – this technology simply was not available a decade ago.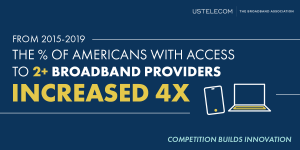 At a time when American consumers are now leading the world in internet traffic per user, there has been measurable progress in expanding broadband connectivity, in large part due to the U.S. approach – a policy framework that incentivizes capital-intensive private investment over government regulation.
It has not only delivered a more competitive U.S. broadband marketplace than Europe, it has also fueled additional benefits like declining prices, superior network resilience, and the ability for consumers to fully use digital tools and resources.
Now is the time to sustain and build upon this progress with smart policies from Washington to increase affordability and adoption to deliver the reliable, affordable and modern connectivity the entire country deserves.